Admission Fees
30 people or more: 10% discounts
100 people or more: 20% discounts
Zoo and Botanical Gardens joint pass
Please inquire in advance regarding excursions by junior high schools, elementary schools, kindergartens, nursery schools, schools for the disabled, etc.
Admission is free of charge for junior high school students and under.
Access
Higashiyama Sky Tower is located next to Higashiyama Zoo and Botanical Gardens so you can easily acssess via Sky Tower Gate near the Vivarium.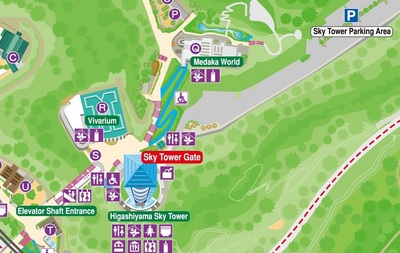 15-minute walk from "Hoshigaoka Station" or "Higashiyama Koen (Higashiyama Park) Station", both on the Subway Higashiyama Line.(

"Higashiyama Koen Station" is NOT a recommendation at NIGHT time.

)
Please check "Access Guide" of Higashiayama Zoo and Botanical Gardens.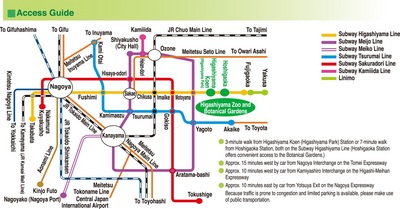 Parking
284cars (1,600 for the Zoo and Botanical Gardens car parking)
Fee: 800JPyen per day [9:00am-5:00pm] Free of charge after 5:00pm (close 9:00pm)